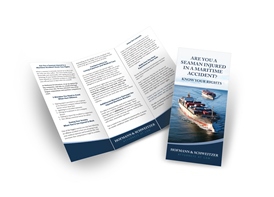 Are You an Injured Seaman?
Are You Wondering About Your Legal Right to Recovery?
Do You Know How to Secure Your Own Recovery and Protect Your Family?
If you have questions that need answering, we recommend reading this FREE publication written by the experienced New York Jones Act lawyers of Hofmann & Schweitzer.
In Are You a Seaman Injured in a Maritime Accident? Know Your Rights you will learn:
How to help your family financially and emotionally.
How to ease your own anxiety.
How to recover compensation for living expenses and medical care.
Whether you may qualify for additional monetary damages.
Whether you may be able to bring a Jones Act lawsuit.
About the mistakes that you need to avoid if you've been hurt offshore.
About our experienced New York maritime lawyers.
This publication is available, free of charge and free of any obligation, to any injured seaman who was hurt on or off the East Coast of the United States. Simply fill out the contact form on this page, and we will email this brochure to you.
Our experienced New York and New Jersey Jones Act attorneys represent clients from Maine to Florida. With more than forty years of combined legal experience, the northeast maritime attorneys of Hofmann & Schweitzer understand how to represent injured seamen. We've negotiated with the big maritime employers before and helped our clients recover fair and equitable damages.
We'd be pleased to provide you with a free consultation. Simply fill out our online contact form or call us today at 1-800-3-MAY-DAY or 1-800-362-9329 to learn more and don't forget to download your complimentary copy of Are You a Seaman Injured in a Maritime Accident? Know Your Rights today.